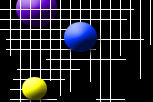 INTERESTING FACTS - PAGE 3

Spook Lights - White, blue, or yellow lights useen glowing in the distance at night. Unexplained, they are known by different names including ghost lights, will-o-wisps and ignis fatuus (foolish fire). Many documented examples of ghost lights have been made including the spook lights around Joplin, Missouri, the Marfa Lights in South Texas and the Dover Lights in northwest Arkansas.


Vortexes - Most often spotted indoors, these swirling funnel-shaped mists show up in photographs with a tread-like quality in the body. These anomalies may be spirits themselves, but it is becoming increasingly believed that it is more likely they are a method of transport between two worlds. They are often seen with orbs but have also been spotted alone.




Some hauntings have an eerie resemblance to life, where ghosts are busy with activities that are common to living people such as walking around or working. "Ghost Experts" describe these hauntings in several ways. The first is that the ghost is simply doing something that he/she did frequently in life. The second assumes that the sci-fi concept of time-space continuum is real and that sometimes two time frames overlap. The third explanation is referred to as a "place memory", which is kind of like a recording of a past event that has imprinted itself on the environment. These are also called residual hauntings and recordings. Images and sounds are impressed upon a place and later replayed in a phenomenon that is similar to watching a loop of a movie film.

So, perhaps there is no ghost in these types of "hauntings", but rather, some kind of psychic "record" of a person from long ago.




HOW TO GET RID OF A GHOST

Do you think you have a ghost? Do you want it to go away?

The easiest way to get rid of a ghost is to simply ask it to leave. Use a firm voice and tell the ghost exactly what you want and why. You might say something like this: "This is my house and it bothers me when you are around all the time. Would you please leave?" Remember, the physical world is your domain and ghosts rarely have any power in the physical world.

Ghosts don't always know that they are dead. You may have to explain to them that they are dead, that they no longer belong in the physical world and will be better off if they move toward the light.

Sometimes you may have to ask what the spirit wants. This is often the case with someone who has recently passed over who may be attempting to communicate to you about something. Afterwards, they are happy to leave.

DO NOT

When telling the ghost to "go away", do not yell or sound angry.

Do not give the spirit recognition by talking about it in your home, or maybe avoid talking about it all together. This provides the spirit with energy, making it more powerful.

Try not to show fear. It is your home and the spirit can generally do you no harm. Fear can also provide the spirit with energy.

DO NOT use Ouija boards, Tarot cards, sťances, or witchcraft when dealing with anything that is supernatural. These items may actually increase spiritual activity and/or "open doors" that invite demonic and other unwanted spirits.