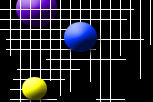 INTERESTING FACTS

Ghosts want to be noticed.

Ghosts have no sense of passing time - often, they do not know they are dead.

Sometimes they exist in a state of confusion, perhaps like being stuck in a dream.

Ghosts can smell things and love the smell of lemons.

Ghosts have a sense of humor and love to hear humans laugh.

Sometimes ghosts get bored with their surroundings

Most ghosts are happy, but some still cling to an emotional pain.

They can appear to the living in dreams.

They can leave behind certain scents, such as perfume.

They can make sounds that are audible.

They use their energies and ours to move things.

They are pranksters.

They usually appear as intense balls of light called orbs that are neon blue or violet.

Ghosts favor night due to the decrease in daytime energy use.

Ghosts may appear as mists or vapors.

A hooded black smoky figure is a dark entity and you should be careful around them. They usually appear at the foot of beds.

Some alleged hauntings are actually a "residue," which is a past event that replays itself over and over.

Certain places are portals or vortexes where ghosts transport themselves.

Hauntings are most intense around children entering puberty, as kids this age are emitting immense amounts of energy.

Ghosts can read your thoughts.

Ghosts retain all the memories and emotions of their lives.

Sometimes ghosts are trapped and need to be released. Let them know they can move on.

Noisy, troublesome ghosts are known as poltergeists.

Ghosts tend to be very temperamental.

If a spirit was a jerk while living, they will probably still be a jerk while a ghost.

Ghosts hang out in cliques with other ghosts.

Ghosts make friends with other ghosts from different eras.

If you hear a strange whisper in your ear when sleeping, it is probably a ghost.

Ghosts do not sleep.

Ghosts like to climb up and down stairs at night.

Most ghosts can't or won't hurt you.

Animals can see or sense spirits, that's why you often see them just staring intensely at what appears to be nothing.

If you are being haunted, if you simply ask them to leave, they will. Say something like "I know you are here but you are scaring me please leave."

When a ghost enters a room, the room usually gets cold.

Animal ghosts exist and have been sighted.

Ghosts who lived hundreds of years ago keep up with the trends.

Children perceive ghosts as imaginary friends.


Cellphones Spook Ghosts

According to an expert in England, mobile phones are killing off ghosts. Tony Cornell of the Society for Psychical Research, told a British newspaper called the Sunday Express that reports of ghost sightings began to decline when mobile phones were introduced some 15 years ago.

"Ghost sightings have remained consistent for centuries" said Cornell, of Cambridge in Eastern England. "But with the introduction of mobile phones 15 years ago, ghost sightings began to decline to the point where now we are receiving none."

Apparently paranormal events, which some scientists put down to unusual electrical activity, could be drowned out by the electronic noise produced by phone calls and text messages.

Ectoplasm (Vapors and Mists) - A grey, white or bluish colored fog that appears alone or right before the appearance of an apparition. The mist may move in all directions including through physical barriers. It resembles exhaled breath on a cold day or cigarette smoke and is often erroneously identified in ghostly photography.


Angels - Contrary to popular conception, angels have never been incarnated into human form and have not lived on earth. Considered to be generally good, angels are servants of a higher being or God and tend to have specific purposes to their existence as relating to humans. Some are messengers, such as Gabriel in the Bible while others are spiritual warriors, such as Michael. Others act as guardians to humans on earth and are the most believed in and witnessed angels in our time. Angels have been described elaborately in various forms, ranging from winged and light filled to non-descript in plain clothes.

Demons - Like angels, demons have never lived and also seem to have specific purposes in relation to humans. They are considered evil and serve the will of Satan. They are known for tempting and tormenting humans and can manifest themselves in nearly any form. They are known for thier ability to possess humans (and even inanimate objects) and cause them to act or perform in manners completely alien to their character, including violently. Removal of a demon requires the services of an exorcist, or otherwise someone considered pious and pure of heart.